On April 20, 1945 the US Army 7th and 45th Infantry Divisions liberated the City of Nurnberg Germany. Six years later on Washington's birthday, February 22, 1951, Women's Army Corp Veteran Doris Briggs is giving birth to her second son. But this time her pregnancy is much different. Doris understands war, she is in a US Army Hospital in Nurnberg. The hospital itself had been dedicated for the Nazis in 1936 by Adolf Hitler. She is living in a City that has been bombed and suffered major damage and she and her husband, Sargent William Briggs represent the occupying victors of the brutal war. Nearby, in Nurnberg Castle Nazi heroes had been tried and convicted for crimes against humanity. But 26 year old Doris can't understand the war that is going on in her own body. The baby arrives prematurely and has to be placed in an incubator so his lungs developed enough to breath on his own. The baby's birth will not end the health battle for Doris.
It has not been an easy life for Clarence and Isobel. Clarence is a veteran of World War l, together they have weathered the Great Depression and had moved from small towns to big cities whenever Clarence could find

Clarence and Isobel Callahan
work. He was a conductor on the New York Central. He studied drafting in New York and now practices his craft at the Road Department in Taunton Mass. Isobel is a homemaker. She and Clarence tend their garden and she cans and freezes the products of their garden for the New England winters. Isobel had worked for the Good Year company during the war, making fuel tanks for US military planes. Now empty nesters, they may be expecting to enjoy the occasional visit to Boston to see their beloved Red Sox. But in
eleven months, January of 1952 Clarence and Isobel will learn that they must bury the second of their three children.
Sargent William Briggs will return home with his four year old son James, the infant, and the body of his lost wife in a military plane. They will stay with Clarence and Isobel in the 100 year old Cape Cod house in East Freetown. Bill, as he is known to his in-laws, will separate from the United States Army and find work locally. He will have his own battles, like soldiers throughout history who deal with the guilt of taking life and pain of losing friends, brothers, wives, and sometimes themselves. Bill Briggs will meet and marry Florence and they will move with his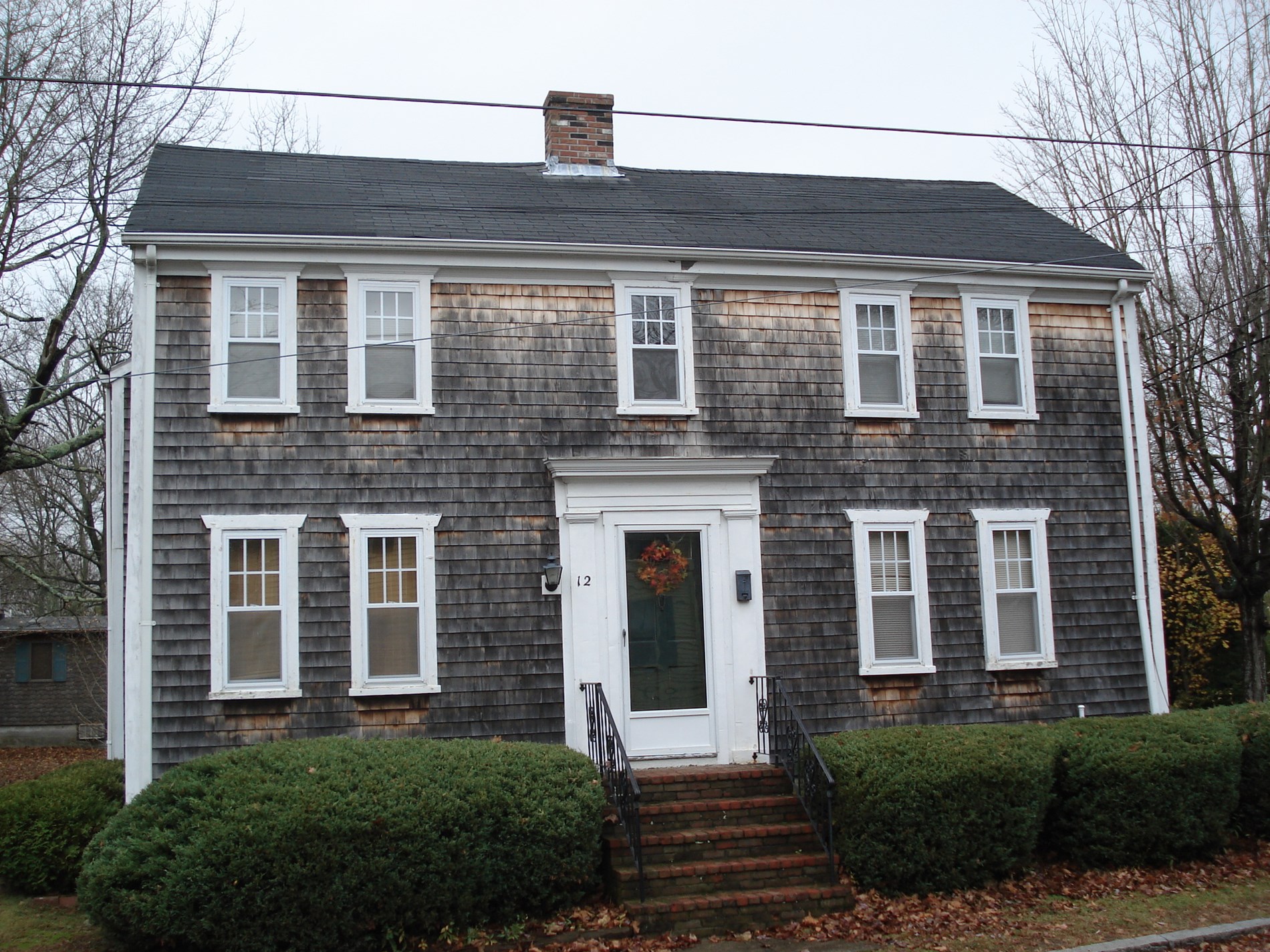 The House on Cherry Street
two sons into the upstairs apartment of Bill's father's home on Cherry Street in Fairhaven Mass. the houses in this neighborhood date back to the 1770's. If you walk to the bottom of Cherry Street you can look out over the bay. Florence will give Bill his third son and they name him Stephen.
That's a lot for a new bride to cope with and so from time to time they would drive out to East Freetown and drop off Doris's sons at the grandparents. Clarence and Isobel were more than willing and even delighted to have time with the offspring of their beloved daughter. Isobel even went so far as to say that she and Clarence would be happy to keep Doris's boys permanently. And so that is just what happened. The years went by, the garden grew, the snow got shoveled and plowed with Clarence's walk behind David Bradley tractor. The boys had ten acres to run around in and sometimes friends from Long Plains Baptist Church would come over. There were home movies, Gun Smoke on Saturday evenings and summer vacations.
One summer Clarence and Isobel decided to take the boys to Niagara Falls, maybe it was part of their empty nest bucket list that got interrupted. However this trip is interrupted by the immigration service when the honeymooners try to take two children, who are not theirs, to the Canadian side of the Falls. They didn't see that one coming and the experience incited fears of other future issues. What if one of those boys is sick or injured and needs medical assistance. These are simple times compared to today but the Niagara Falls experience is a warning not to be ignored. Returning to Massachusetts, Isobel and Clarence discuss adoption with Bill. Whatever apprehensions or reluctance he may have had or talked over with Florence will go to their graves but he agrees that having Doris's parents adopt his first sons is best. The process begins, a lady from the Child Welfare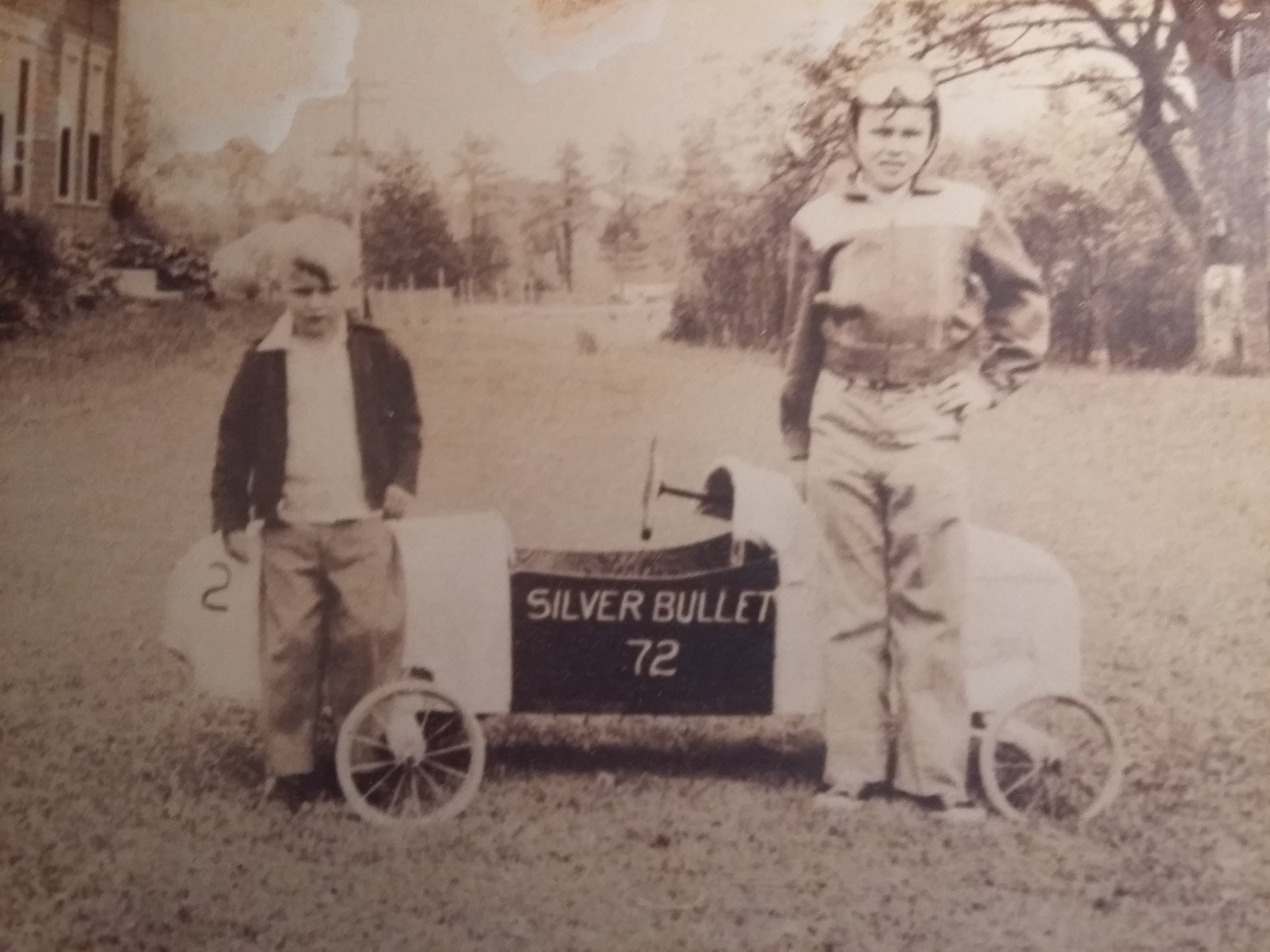 David and his big brother James
Department will come to visit that Cape Cod house on Doctor Braley Road. Isobel cleans the inside like it hasn't been cleaned in awhile and Clarence cuts the grass and makes sure that any repairs to the house or barn are fixed for the visit. The day comes, a Saturday, and Child Welfare blesses the adoption and name change for James and David Briggs to James and David Callahan.
Something about Great Depressions, and Wars, and the loss of two children combined with a trust that there is a loving God casts out fear. There was a certain farmer in our community who saw a pheasant feeding on the corn leftovers in our garden. The farmer decided that the pheasant would make a nice meal and so parked his truck, full of crates from his own garden, and proceeded to walk back towards our garden to shoot that very bird. Isobel was not amused! She marched across the front yard and began pulling every crate of produce that she could reach with her 4' 11" frame, from that truck onto the pavement. By this time the farmer is walking back to his truck with pheasant in one hand and shotgun in the other. It was a small community and so word likely traveled not to mess with that Callahan lady. In 1957 the Callahans will move to Tallahassee Florida where Clarence will work for the Road Department, again as a Draftsman, until his passing from this life in 1962. Isobel, now with only an 8th grade education and no High School Diploma buries her husband of 37 years. She enrolls in a technical school; she'll master typing, shorthand, and secretarial skills and finally get her Diploma. There is enough life insurance to pay off the mobile home and between a Social Security Widow's benefit and the VA she keeps food on the table and the bills paid until she gets a part time job as secretary at her nearby church.
It's 1964 and Dorothy Caldwell casts the Great Lyndon Johnson Barry Goldwater Debate with her 8th grade American History class. James and David had watched the Republican Convention that summer in black & white. Google and internet searches were decades away so this meant trips to the Public Library and searches of old magazines to learn about LBJ and Lady Bird and those suspect voting irregularities in South Texas. A seed was planted in both of the Callahan boys in 1964. James played football at James S. Rickards Jr. Sr. High School and David played in the Marching and Concert Band. Isobel served as one of the volunteer school nurses. Both of the boys were active and involved at their school and both attended universities and earned degrees.
David took a little longer than his big brother to complete his education. He left Tallahassee in 1977 and moved to Atlanta where he worked in the Printing Industry. He married and raised two children who are now adults. He

Enjoying the Atlanta Beltline with his Son and Daughter
coached soccer, served on his neighborhood homeowners' association, and was a deacon and served on the board of his church in Mableton. He's now retired and is living in the City of South Fulton where he is actively involved in protecting and improving his neighborhood. He volunteers with Bill Glass Behind the Walls Ministry, a national organization involved in sharing the Good News of Jesus Christ with men and women in jails and prisons.
Over the years David's interest in Government encouraged him to help others with their campaigns for local offices but in 2016 while working on a county campaign for a friend he made the decision to run for Georgia's 13th Congressional seat of no other Conservative qualified. Although another Republican candidate paid the qualifying fee in the last hour of the last day David launched a serious run garnering over 90% of the Republican Primary vote and receiving just under 70,000 votes in the General Election.

David addresses the Fulton County Republican Party
David's desire and willingness to serve in government came as a result of his study of Scripture and God's judgement on societies throughout history who turn their backs against God. The Book of Jonah, and particularly the last verse are a warning to our own nation and society. Like Nineveh, whose King humbled himself and repented, God is seeking leaders who will seek Him.