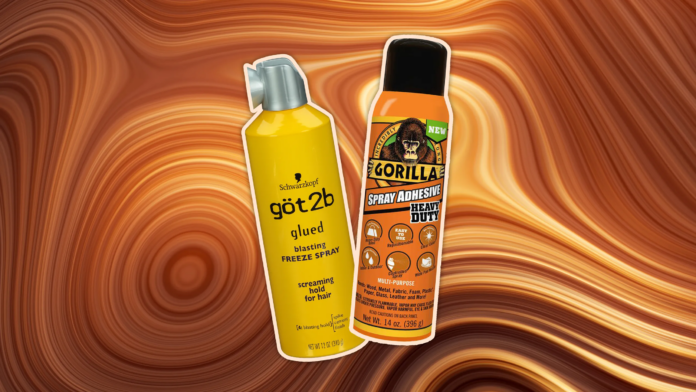 If you are a fan of wigs and hair extensions, you are probably familiar with the critical role hair glue plays in keeping your style in place. With the right type of glue and correct application, you don't need to worry about having your wig fall off prematurely.
Basic Hair Glue Application Steps
1. Moisturize your edges
Always keep your edges moisturized each time you want to style, it doesn't matter if you are wearing a wig or not.  If you fail to moisturize your edges, sooner or later they will become very dry and at the risk of breakage. Hence it is important not to leave your edges dry, especially if you are going to be on those wigs for a long time.
2. Smoothen down your edges
This should be done meticulously to ensure that there are no knots or tangles. For most people, this may seem like a hard job but it is something you can't ignore if you want to ensure the health of your edges even while they are under a wig. Lay down your edges with your choice of edge control. Rather than using sticky products, always go for nourishing ones.
3. Wear your wig cap
Ensure that your hairline is securely covered under your wig cap. Will be best to use a very light brown or nude wig cap. To prevent the glue from coming in contact with your edges, cover up your edges properly. You can choose to leave some hair out but this will mostly depend on your hairline and the shape of your face.
4. Apply glue at the edge of your wig cap
This should be done starting with a slim layer. Always use trustworthy glue. It is more advisable to use temporary glue because while it helps you hold your hair in place for a few days, you can easily take it out when you are ready to. With just the sprinkle of a little water, you can easily get the temporary glue off your hair. After this, apply a spray.
5. Allow the glue to dry
Allow the glue to dry before wearing your wig. If possible, use a hand dryer to make the glue gummy enough to stick to the wig properly. You can use both cool and hot settings alternately to ensure that the glue doesn't dry out before it sticks. Apply a little pressure on your hairline all the way down to ensure it is flat enough. The end of a rat tail comb or the fingers can be used to complete this process.
How Much Does a Hair Glue Cost?
Prices of hair glue differ depending on the make and size. While the smaller quantity costs less, the larger quantities cost more. The price range for these different sizes is usually $6 – $15. Here special considerations are given to wholesalers. If you buy in bulk, you get a discount and probably have your products shipped for free.
Conclusion
For every lady, owning hair glue is not a luxury, it is a necessity. Hair glue helps keep your hair in place, giving you that style you so desire. Visit an online or an offline store today and get yourself a hair glue for your wigs.